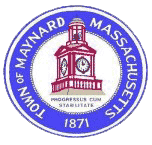 The Town of Maynard, Massachusetts
Property Assessments for Fiscal Year 2018
Your total value for FY18 was determined after a complete market and cost analysis and is representative of full and fair cash value as of January 1, 2017.
Fiscal Year 2018 Tax Rates:
Residential $22.64 per 1,000 of value
Commercial $31.10 per 1,000 of value
A key provision of Prop 2 1/2 is that inflation cannot add revenue and can only reduce the tax rate. The result is that as the value of property increases, the tax rate must drop. Conversely, if the values go down, the tax rate goes up. Inflation or deflation in value is revenue neutral.
The assessors do not determine or modify the total tax to be collected. The assessors do distribute the tax burden equitable. The process is continuous. Once the values are certified by the Department of Revenue, the assessors set the tax rate by dividing the levy (amount to be taxed based on the approved budget) by the total taxable value.
It is the mission of the Assessing Department to establish and maintain the full valuation of all real and personal property in the Town of Maynard. We pledge to deliver excellent service to the community and to assess and apportion valuation equitably and fairly throughout the town. "We are the Guardians of Fairness."